Podiatrist Appointments
What can I expect during my treatment?
New patients' appointment
Can take up to 45 minutes
Detailed information regarding yourself, your medical history, the medication you take and the reason for seeking treatment
A treatment plan will be discussed, and with your consent, treatment will commence
If future treatment is advisable, it will take the form of one of the following
Routine appointment
Can take up to 30 minutes and includes:-

Nail cutting
Callus reduction

Corn removal
Reassessment of health issues
Professional advice on foot care
Simply nail cutting appointment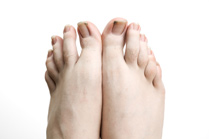 If you have problems cutting your own toenails then we have the solution.
Can take up to 15 minutes
Minimal cost
Designated toe nail cutting service only
If you are a new patient to the clinic, we must carry out an assessment as required by our regulatory body the Health Professions Council - see new patients' appointment above.