Podiatry/Chiropody
What do we do?

Podiatrists (previously call chiropodists) assess, diagnose and treat abnormalities and diseases of the lower limb, as well as providing routine foot care. They give professional advice on the prevention of foot problems and on proper care of the feet. Patients suffering from Diabetes are especially at risk from foot related problems and are advised to seek professional advice to prevent long term damage.
Podiatrists are well suited to assessing musculoskeletal conditions such as ankle, knee, hip and back pain as these may be due to poor foot positions (Biomechanics). This is often in conjunction with other specialists.
Patients can be of all ages from infants to the elderly.
What can we treat?
We can provide treatment for the whole family, and advise on a wide variety of conditions:-
Athletes Foot and Fungal nails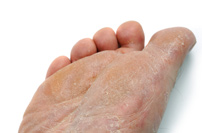 Arthritic Feet
Osteoarthritis
Rheumatoid arthritis
Boney Deformities
Bunions / exostoses / Haglunds deformity / hammer toes
Childrens Feet

(podopaediatrics)
Flat feet
Growing pains
In-toeing
Out-toeing
Knocked knees
Severs Disease
Diabetes foot care
Annual foot checks
Routine foot care
Forefoot Pain
Callus and corns
Capsulitis / interdigital neuritis / metatarsalgia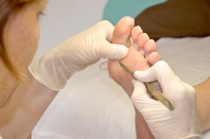 Heel Pain
Bruising
Calcaneal bursitis
Fractures
Plantar fasciitis
Tendonitis
Problem Nails
Discoloured
Ingrowing or involuted nails with or without local anaesthetic
Nail surgery to permanently remove part or all of a problem nail and prevent regrowth by phenolisation
Misshapen
Thickened
Sports Injuries
Ankle sprains
Foot pain
Plantar Fasciitis
Toe injuries including nail problems
Verrucae
What can I expect during my treatment?
New patients' appointment
Can take up to 45 minutes
Detailed information regarding yourself, your medical history, the medication you take and the reason for seeking treatment
A treatment plan will be discussed, and with your consent, treatment will commence
If future treatment is advisable, it will take the form of one of the following
Routine appointment
Can take up to 30 minutes and includes:-

Nail cutting
Callus reduction

Corn removal
Reassessment of health issues
Professional advice on foot care
Simply nail cutting appointment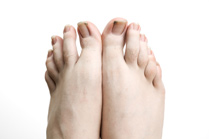 If you have problems cutting your own toenails then we have the solution.
Can take up to 15 minutes
Minimal cost
Designated toe nail cutting service only
If you are a new patient to the clinic, we must carry out an assessment as required by our regulatory body the Health Professions Council - see new patients' appointment above.
Special appointments
Biomechanical assessment, gait analysis with/without casting for orthoses
Dermal fillers using silicone under local anaesthetic
Ingrowing toenails under local anaesthetic
Nail surgery under local anaesthetic with/without phenolisation
Verrucae treatments
Intra-articular injections using Ostenil for joint pain
Not sure if you need us?
The podiatrists are happy to offer a 10 minute consultation without treatment, please enquire.
How do I know if my podiatrist is qualified?
Podiatry and chiropody are protected titles in law and only those who are registered with the Health and Care Professions Council (HCPC) are legally entitled to use them. This offers greater protection to the public with the assurance that practitioners have met the standards set by the HCPC, such as assessing patients' feet and explaining a diagnosis before the commencement of any treatment; have continually maintained their knowledge through Continual Professional Development and able to practice lawfully, safely and effectively.
All practitioners at the clinic are trained to diploma/degree level, HCPC registered and members of the country's leading professional body, the Society of Chiropodists & Podiatrists.
"Podiatrists are highly skilled health professionals who have been trained to prevent, diagnose, treat and rehabilitate abnormal conditions of the feet and lower limbs. They also prevent and correct deformity, keep people mobile and active, relieve pain and treat infections". (Society of Chiropodist & Podiatrist 2009).


Do I need a referral from my GP?
No, it is not necessary for your GP to refer you to the clinic, although they may suggest you seek treatment from a chiropodist/podiatrist if you have a problem with your feet.
Our practitioners
Angela Riggall BSc (Hons) Podiatric Medicine MChS : HCPC – CH17201
Angela is the principle podiatrist and has been in the profession for over 20 years. Her degree in Podiatric Medicine was achieved through New Durham College and the University of Sunderland.
She is qualified in a variety of injection techniques, including local anaesthetics, and is able to supply relevant drugs, such as antibiotics, normally only obtained through the doctor.
During the course of her profession, Angela is involved with the local Private Practice Network for the Society of Chiropodists and Podiatrists, ensuring local practitioners have the benefit of local training and the chance to meet and discuss local or national issues.
Contact details
Appointments
Tel: 01522 722595
Email: podiatry@redroofclinic.co.uk